Definitely habano is the best cigar in the world. "Habano" is a protected designation of origin, concerning only to cigars produced in Cuba using 100% leaves of tobacco grown in Cuba.
A Cuban "puro" not only conveys the sweetness of Caribbean soil and climate, but it also tells the history of one of Cuba's most authentic centuries-old traditions: the cigars hand-twisting. Let's learn a little more about habanos and their magic.
Why Cuban cigars are so special?
The climatic conditions and the chemical properties of the soil, gives Cuban cigar a sweet flavor, with a rather high sugar content and relatively low proportion of nicotine. Moreover, the cigar shaping is carefully made by hand, providing it with a seal of authenticity that makes habanos the best cigars in the world.
Tobacco (Nicotiana tabacum) is a plant autochthonous from the Western Hemisphere, and it arrived in Cuba through the Antilles, approximately 4,000 to 5,000 years ago. Upon the arrival of the Spanish colonizers to Cuba, the tobacco plant was one of the main crops on the Island.
The cultivation of tobacco has several stages: the process begins by planting the seeds in seedbeds under optimal conditions. They remain there for several weeks, and around 45 to 80 days after that, the harvest of tobacco leaves can be started.
The harvested leaves are then transferred to the drying houses. After removing of their central vein, the leaves are classified as either dry, flown or light. They are subsequently fermented to release harmful chemicals, such as ammonia, and are aged at the manufacturer's discretion. Finally, the cured and fermented tobacco leaves are taken to the "torcedor", which is the person who carefully select each leaf and twist them carefully for shaping the cigar. Then, cigars are submitted to a second aging period, re-classified, and, finally, they are packed in cedar boxes.
Habanos are classified according to their shape in different types of "vitolas". It can be Large, which are ideal for smoking softly and for a long time, Thick or Robust, which burn in a more slowly way and leave the aroma and flavor of the cigar for a longer time on the palate, and Lighters, which are small and thin cigars that smoke relatively fast.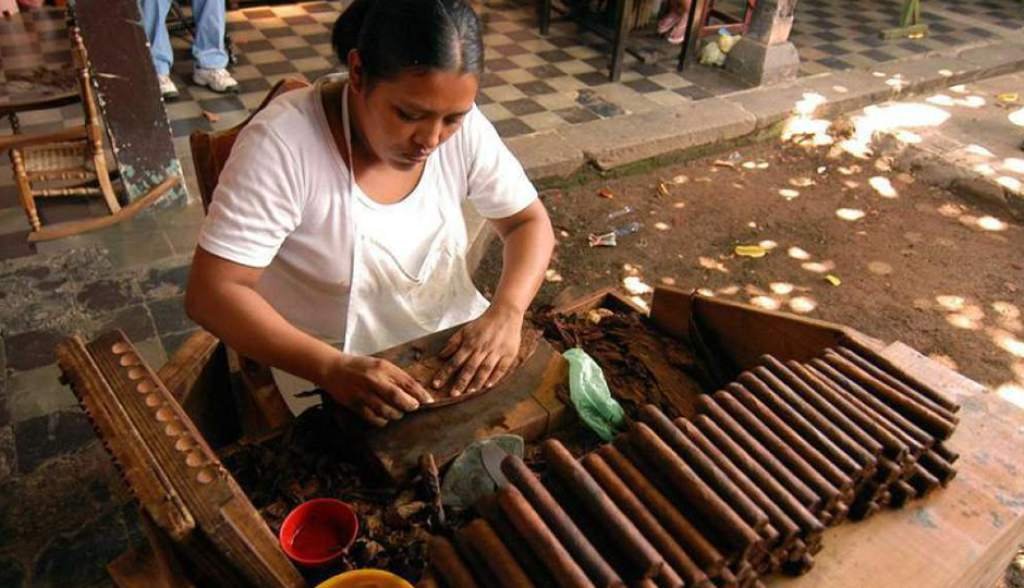 Today, habano is one of the most exclusive Cuban products. It is manufactured from tobacco mainly cultivated in Pinar del Río province, although the best known cigar factories are located in Havana. Cigar factories are a typical tourist attraction in Havana, and many travelers enjoy visiting them to watch the manual tobacco leaves twisting process, and to buy exclusive custom cigars.
The five best Cuban Cigar brands
Several brands of Cuban cigars that, because of their exceptional quality, are very appreciated by habano lovers. The fave most popular brands are Cohíba, Montecristo, Partagás, Romeo y Julieta and H-Upmann.
Cohíba
The tobacco used in Cohíba cigars are from "El Corojo", in Pinar del Río. Tobacco grown in El Corojo vegas yields soft-layer leaves of fine texture and light colors.
For producing Cohíba cigars, there is an extra process called "third fermentation", and it is carried out along with aging. That extra fermentation process gives Cohíba its singular taste and distinguishable softness. Che Guevara, as Minister of Industry of the Republic of Cuba, was the promotor of the brand. For producing the first three prototypes in 1968, Che engaged the most promising specialists of that time.
Those three prototypes resulted in what is today known as Lanceros (large panetela), Coronas Especiales (crown) and Panetelas (cigarette). Three new series were launched in 1980s, the Classic Line with the Splendid (Churchill), the Robust (robust) and the Exquisite (panetela). A further line, 1492, came to the market in 1992, and it included five models: the 1st century (little crown), the 2nd century (petit corona), the 3rd century (crown), the 4th century (long crown) and the 5th century (lonsdale).
Montecristo
Montecristo cigars are strong cigars with a dark brown coating. The Montecristo A-Class is a 235 mm cigar that outperforms all classifications. The vitolas of this brand are classified as: Montecristo No. 1 (lonsdale), Montecristo No. 2 (figurative), Montecristo No. 3 (crown), Montecristo No. 4 (small crown), Montecristo No. 5 (coronita), Montecristo A (great Crown), Specials (great panetela), Joyitas (demi-tasse), Montecristo B (petit crown), Tubos (lonsdale), Montecristo No. 6 and Montecristo No. 7.
Montecristo brand was launched in Cuba in the thirties of the past century, although its history dates back to the nineteenth century. It was long regarded as one of the preferred brands of Cuban cigars. Montecristo is very recognized worldwide and its sales exceed those of other tobacco brands.
Partagás
Partagás is a medium-strong type of light brown color cigar, made with tobacco from Consolación del Sur municipality, in Pinar del Río. This brand was founded in 1845 by the Catalonian entrepreneur Jaime Partagás y Rabell. The Partagás cigar factory was built on 1850, and it is the oldest one in Cuba. It is major tourist attraction in Old Havana today. In this factory the figure of the tobacco reader was born. This is the person who reads, aloud, newspapers and novels to cigar manufacturers, while they are working. This tradition remains nowadays.
Partagás dossier is one of the most extensive and complete in the world, that's why we will only mention some of its famous vitolas, namely, Lusitanias (double crown), Shorts (three petit corona), Presidentes (figurative), Aristocratas (petit corona), Parisians (corona), Partagás de Luxe (corona), Partagás No. 1 (lonsdale), Petit Partagás (petit crowns), Coronas, Coronas A Mejorado, Coronas Grandes (great crown), Petit Coronas Especiales (crown) Charlottes (panetela) Churchill de Luxe (Churchill), Habaneros (petit palma). London line in its three variants, i.e., London in Cedar, London Extra and London Fine (petit corona), is also within Partagás dossier.
Romeo y Julieta
Romeo y Julieta is a multi-awarded brand that was launched in 1875 by a company own by Inocencio Álvarez and Manín García. The factory still exists, and it is located in O'Reilly street. Inocencio Álvarez and Manín García were pioneers in the introduction of personalized rings or vitolas. Romeo y Julieta cigars are produced from tobacco leaves of medium and strong strength, with brown coat colors. They have a rather classic flavor, especially because of the very distinctive aroma. Romeo y Julieta was Winston Churchill's favorite cigar brand.
Some of the most striking Romeo y Julieta vitolas are Cedros de Luxe No. 1 (lonsdale), No. 2 (crown) and No. 3 (small crown), Clemenceaus (churchill), Belvederos (petit palma), Celestiales finos (fat crown), Churchills (churchill), Exquisites (petit crown), Exceptional (petit crown), Montagues (long palm), Palma Reales (panetela), London Royalties (petit crown), Havana Royalties (petit palma), Romeo No. 1 de Luxe (crown), Romeo No. 2 de Luxe (petit crown) and Romeo No. 3 de Luxe (petit crown)

H. Upmann
Founded by brothers August and Hernan Hupmann in 1844, this brand revolutionized cigar distribution, store and transportation, since it was the first one to use the cedar boxes for storing cigars. H. Upmann, also, introduced the technology of preservation of cigars in aluminum tubes. Another interesting fact is that, it is said that President John F. Kennedy was a huge fan of this brand. Actually, according to some rumors, he ordered more than 1,000 cigars before the embargo was signed.
H. Upmann has about 40 models, featuring the largest Sir Winston and Monarcas vitolas, Connaisseur No. 1 (robust), Cristales (crown) which are the last cigars that still are preserved in glass tubes, Super Coronas (great crown), Royal Coronas (crown), Majestic (crown), Magnun 46 (great crown), H. Upmann No. 1 (lonsdale), No. 2 (figurative), 3 (crown) and No. 4 (petit crown).
Where to buy and appetite Habanos in Cuba
Currently, there are more than 27 brands of cigars protected by habano designation of origin. The Habanos Corporation, world leader in the Premium cigar market, is the one in charge of marketing this product. On that purpose, it uses an exclusive network, which is working in more than 150 countries around the world.
For buying habanos in Cuba, it is recommended to attend the official Habanos S.A. stores, which are located in all tourist spots and inside the hotel complexes all over the country. Besides, there are the Casas del Habano, which are specials stores and gastronomic institutions for buying and tasting habanos, or even to enjoy a "maridaje" with rum, cigars and coffee. At Casas del Habano, it is also possible to be assisted by an habano-somellier and a torcedor de tabaco, which provide the clients with a pretty exclusive service.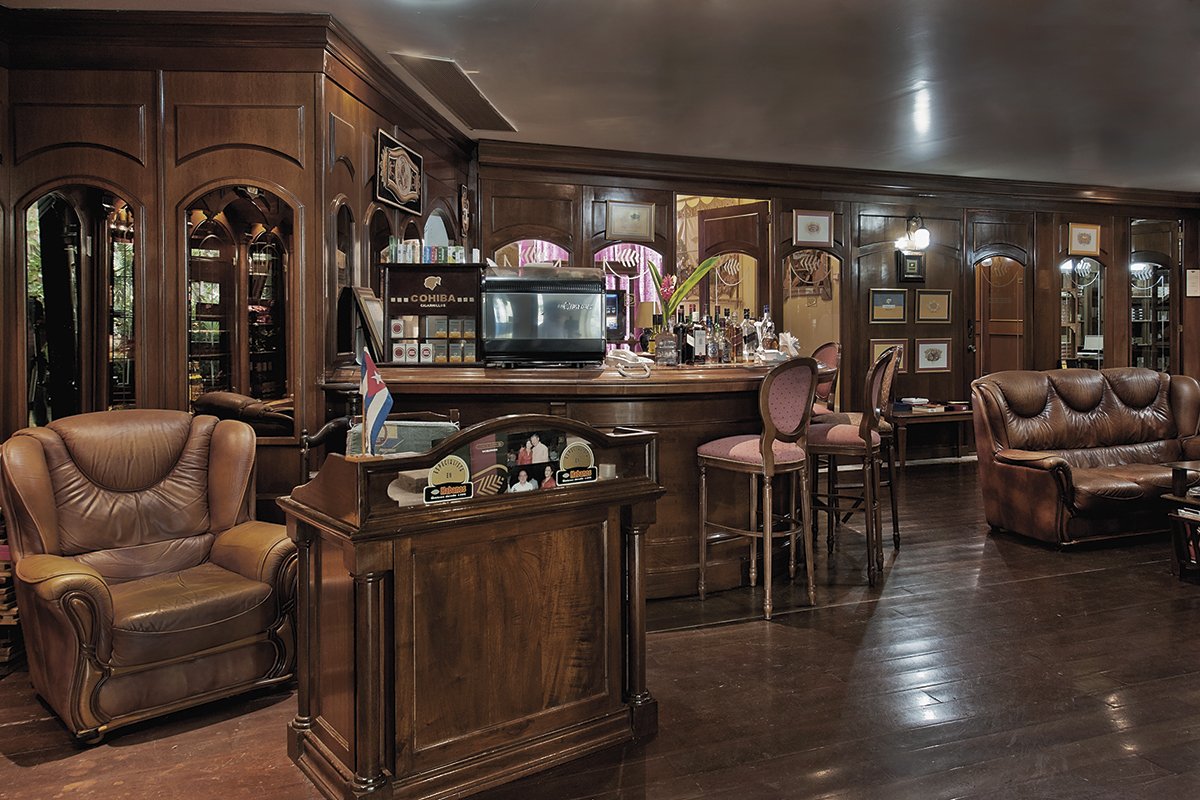 To make both, purchases and tasting cigars in Havana, it is recommended to visit specialized venues placed at the Meliá Cohíba, Meliá Habana, Hotel Nacional and the Meliá Habana Libre. Additionally, we recommend to visit La Casa del Habano 520, inside the Partagás factory, at Calle Industria No. 520 in Old Havana. Another fashionable place for consuming Habanos are La casa del Habano at Hostal Conde de Villanueva, which is placed in Mercaderes Street, No. 202, and La Corona tobacco factory, which is located in Agramonte street between Colón and Refugio, both in Old Havana.