Summer began and with it the desire to visit the beach. To the north of Cuba, about 380 kilometers from Havana, is Cayo Santa Maria, a place that undoubtedly was the perfect destination for those vacations that we longed for.
Before leaving, we looked for photos and videos on the Internet and when we looked at them we were not sure whether to choose this key or another, we wanted a place to relax and forget the problems of home, school, work, everything.
But " A BOOK CAN NOT BE JUDGED BY THE FACADE " that has always been our motto, so we decided to take a risk and get into the adventure.
Listen readers, I can not even explain in words how much beauty and tranquility exists in that beautiful place, I can only tell you about our journey and a bit of history that I researched while there.
I hope you can visit this key someday, I guarantee you will not regret it.
Questions related to the topic:
How to get to Cayo Santa Maria and how far is it from Havana?
How far is the Santa Maria de Varadero City?
What is observed on the journey to Cayo?

Data about Cayo Santa María.

Why choose the Hotel " Ocean Casa Del Mar"?

Are there other hotels apart from the " Ocean Casa Del Mar" Hotel in Cayo Santa María?

What to do in Cayo Santa María in search of entertainment?
Snorkeling, diving or just fishing
Aquarium and Dolphinarium
Plaza " Las Terrazas"
How to get to Cayo Santa María and how far is it from Havana?
One way is viazul buses, which is cheaper in terms of money, for this you will have to arrive by bus to Santa Clara.
Once in the city the transfer can be by private or public taxi to Cayo Santa María, the prices can range between 50-60 CUC.
Another way to access is by plane.
The closest International Airport is located in Santa Clara (the capital of the province of Villa Clara), it takes about 80 minutes by bus to get to the Cayo from the Abel Santamaría airport; the first 60 minutes are through the Cuban countryside and the cities of Camajuani, Remedios, and Caibarien; and the last 20 minutes in the pedraplén.
How far is the Santa Maria of Varadero City?
The distance between Varadero and Cayo Santa María is 233 km. The distance by road is 325.4 km.
We, however, did not choose any of those previous options, we wanted to take advantage of every second of our stay in Cuba, so we resolved a transfer to Cayo Santa María, the price ranged between 30 and 35 CUC per person.
The transfer can be booked at the main hotels in the city, preferably 1 or 2 days before departure.
The tour lasts around 6h 33 minutes.
What is observed on the journey to the Cayo?
In the crossing you can see typical Chevrolet cars living with horse-drawn carriages used by Cubans as a means of transport.
Once in San Juan de los Remedios, Villa Clara de Cuba, we made a brief stop at the Parish Church San Juan Bautista, the oldest church in Cuba.
The interior of the church is impressive, it follows a line of baroque design full of gold leaf, a covered cedar altar, amazing figures, much carved wood finish.
All these finishes were covered with paint for a long time to prevent thefts and looting of the pirates in the area.
It is very well preserved ¡¡
And, of course, the impressive stone path over the sea. Pebble, that's really extraordinary, just the fact of imagining the effort that had to be made to build it is already a privilege to be able to admire it.
Data about Santa María
Cayo Santa María is located off the northern coast of the province of Villa Clara, forming part, along with Cayo Las Brujas and Cayo Ensenachos, of the group of keys called Cayos de la Herradura.
It is bounded on the north by the second largest coral reef on the planet.
It is linked to the large island of Cuba together with Cayo Las Brujas, Majá, Ensenachos and Español de Adentro in the vicinity of Caibarién by a road of 48 kilometers (pedraplén).
Pedraplén that received the international award "Puente de Alcántara" for the Best Ibero-American Civil Works in attention to the special care of the environment in its layout and execution.
This route arises with the objective of making available to the development of Cuba places of tourist interest, achieving direct access to 14 kilometers of excellent virgin beaches of very fine sand, of extraordinary beauty and transparent waters.
Among them, Las Brujas Beach, Ensenacho Beach, La Salina Beach, Perla Blanca Beach, Santa María Beach and Mégano Beach, among others, which are similar to those of Varadero.
This key is also characterized by a subtropical climate that is divided into two seasons:
THE HUMID SEASONfrom May to October and,
The DRY SEASON from November to April (which is also the busiest tourist season).
Why choose the Hotel " Ocean Casa Del Mar"?
After the tour and arrived at Cayo Santa María, we chose the Hotel " Ocean Casa Del Mar".
Luxurious five star hotel with a magnificent spa offering body treatments and massages (for a fee).
The hotel rooms are very good, clean, large and even Internet in some of them for a price of 1.50 CUC, the Privilege service, Exclusive Rooms and Services and a complete entertainment program for the whole family, everything you need to spend a Happy stay and disconnected from the world.
The city of Caibarién is 60 km away, and the nearest Santa Clara Airport is 120 km from the resort.
The best food, there is a great gastronomic offer in which the six thematic restaurants and bars stand out, where you can enjoy varied Cuban and foreign cuisine in the buffet and a la carte without reservation, as well as national and local alcoholic beverages. All-inclusive international 24 hours.
In addition, 2 pools each with its bar, recreational activities such as Ping-Pong, Bingo, beer competitions, Spanish classes, volleyball games on the beach; drinks of all kinds, and fun evening activities and entertainment programs. Children's club, Water sports facilities (on site), Bowling outside accommodation (for a fee), Windsurfing and Children's playground.
Parking Free! There is free public parking at the property. It is not necessary to book.
Daily maid service, Trouser press, Souvenir shop, Currency exchange, Laundry service (for a fee), 24 hour reception.
Pets are not allowed.
Languages ​​spoken Italian, French, Spanish, English
Entry From 3:00 p.m.
Departure Until 12:00
But the best is the beach.
A beach of extraordinary transparency, with warm and shallow waters, white sand and a sea of ​​many different blues where sea birds flit under a radiant sun, has a charming beauty.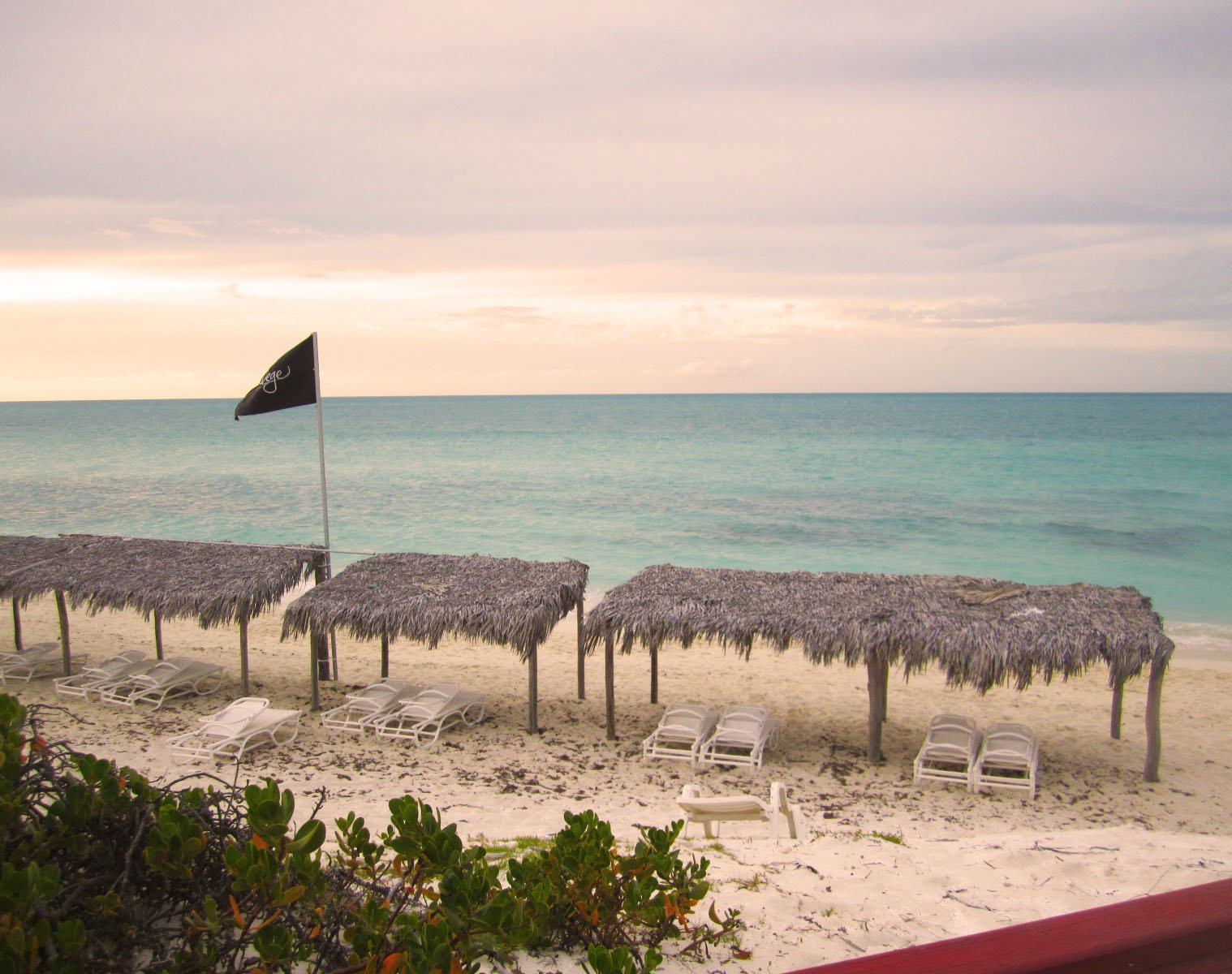 Are there other hotels apart from the " Ocean Casa Del Mar" Hotel in Cayo Santa María?
Well of course.
According to Trip Advisor travelers, these are the 8 most recommended hotels:
Royalton Cayo Santa María

Melia Buenavista

Hotel Playa Cayo Santa María

Melia Cayo Santa María

Melia Las Dunas

Memories Paraiso Beach Resort

Sol Cato Santa María

Starfish Cayo Santa María
All of them with the best value for money in all inclusive resorts.
What to do in Cayo Santa María in search of entertainment?
If you are like us and just want to relax and relax with the beach, pool and bars is enough, but if you are looking for entertainment:
 You can hire a boat to snorkel, dive or just fish at a cost of 39 pesos.
This type of activities is best contracted at the hotel since it includes the transfer to the yacht club and the return included in the price.
I recommend diving, as this is the best way to discover incredible underwater landscapes.
In addition, the coral reef of the Jardines del Rey archipelago, where Cayo Santa María is inserted, is the second largest in the world, surpassed only by the Great Australian Barrier Reef.
Its 24 immersion sites are ideal for diving and underwater photography.
To enjoy these activities you will have to go to the Marina of Cayo Las Brujas.
From there leave the hired boats for fishing, catamaran rides, yacht excursions to the vessel San Pascual sunk in the depths of the bar to explore while diving or explore nearby cays:
French, Cobos, Majá, Fragoso, Las Picúas and Spanish.
      2. Another activity would be to spend some time in the Aquarium and Dolphinarium.
The facilities are very large, have six pools for 21 dolphins and the area where they act with 260 seats.
The passes of the performances are at 10:30 in the morning and at 6 in the afternoon.
The price of the entrance in 2019 is 3CUC and if you want to swim 30 minutes with them it is 69 CUC.
To get there you can take a taxi that can cost between 3 and 15 CUC depending on the location where you are or the other possibility is a bus that passes through the hotels called Panoramic Bus (a tourist bus that can be found in the cities) for 2 CUC one way.
     3.If you have time you can go to Plaza " Las Terrazas" (also known as Pueblo Las Terrazas) is a new shopping and entertainment center that opened its doors since 2016.
It is located in the eastern part of the island of Cayo Santa María (Punta Cerquita), right next to the Hotel Ocean Casa del Mar H10.
It is rather an area with many shops and entertainment places where you will find many other options besides those offered at the hotel.
The services you will find are the following:
A gazebo for weddings, a beach club, a House of Habano where you can find all kinds of tobacco, rums, cocktails, beers and coffee.
A Cuban restaurant "Guajiro", some bars (including the Terrace Bar Cha Cha Cha), a nightclub, a bowling alley with an event room and pool tables.
There is also a shopping plaza with several air-conditioned shops, a craft market, a spa and a beauty salon.
To be able to arrive if you are staying at the Ocean Casa del Mar as we can go on foot or in the electric cars that will be at the entrance of the hotel at your availability.
The Labranda and Valentín Perla Blanca hotels are also within walking distance.
The shortest way would be to walk along the beach.
Guests of other hotels can go by taxi (from 3 to 10 CUC each way, depending on the hotel) or on the panoramic bus (2 CUC one way) that stops at all hotels, plazas and Dolphinarium.
I hope you enjoy.
For us it was the most beautiful place on the island, we could not choose a better place.