At the top of the "to do" list of many people who decide to travel to Cuba is, undoubtedly, resting on a beautiful beach, drinking lots of mojitos and dancing Cuban salsa. Throughout the Island we can find excellent places to dance salsa. Here we will comment on some recommended academies and nightclubs where you can learn and practice Cuban salsa in Havana.
Interesting facts about Cuban salsa
Cuba is a nation with a fascinating musical and danceable legacy. Many rhythms, which are the basis of modern Latin music such as Rumba, Danzón, Mambo, Son and Salsa, were born in Cuba or were created by Cuban composers. Salsa was born in Havana in the late 1950s and became popular in the United States by a Dominican musician. It is, as its name implies, a complex mixture of Caribbean essences and flavors.
However, in Cuba we have a very own way of dancing Salsa called "Casino".  The casino is a ballroom dance executed by an intertwined couple. The dancers demonstrate their skills while performing complex turns and steps in a boldly way. It can be danced also in group, in the so-called "Ruedas de casino" (casino wheels).
It consists of several couples dancing simultaneously and exchanging each other choreographically under a leader´s command. Thus, the Casino wheels are a spontaneous spectacle that is very much enjoyed both watching and dancing.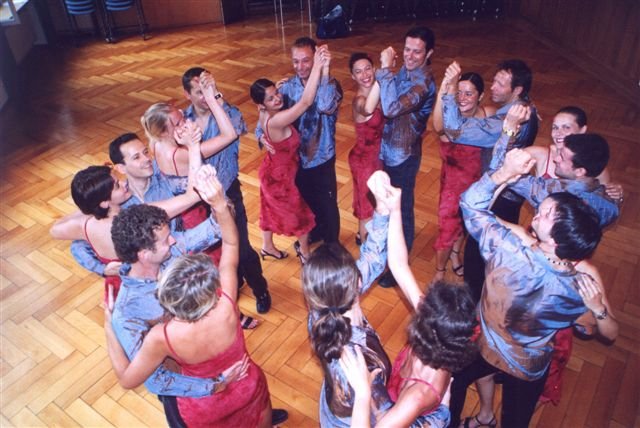 Where to learn to dance Salsa in Havana?
There are several places where you can learn to dance salsa in Havana, either as a course or simply by dancing with the locals. We especially recommend these three academies due to the professionalism of their instructors and diversity of their services.
La Casona del Son: In Old Havana, on Empedrado Street #411, we can find La Casona del Son. This is a dance academy installed in a completely restored colonial house from 1715. The academy offers courses and dance lessons of Cuban rhythms such as Son, Salsa, Chachachá, Rumba, Rueda de Casino and Folklore in addition to other international popular ones such as Bachata, Kizomba, Reggaeton, Booty Dance and Argentine Tango. The house has six rooms prepared to accommodate both students who want Individual and Group lessons. Each level has a main teacher and an assistant per person, for the best use of the lessons. Teachers and assistants teach both Spanish and English. La Casona del Son is open from Monday to Saturday, from 9:00 a.m. to 7:00 p.m.
Salsa Express Cuban dance school: Located on 66th Street between 13th and 15th Streets in Playa neighborhood, the Salsa Express Cuban dance school offers personalized lessons for couples, groups or individual clients. In any case, the academy makes available to each student a personal instructor. It is also possible to request that instructors teach you during a night out.Lessons take place in an open rooftop with a really nice view. It lasts from one to two hours and it is possible to take as many as you like. Students can start from scratch or improve their style with the instructors. The dancing courses are Salsa, Rumba, Son and Bachata. It is open every day from 10.00 to 17.00.
Viadanza: Viadanza is a dance company that offers lessons and courses in Cuban dances, such as Salsa, Son, Rumba, Mambo, Chachachá and other popular rhythms. The courses are tailored to the individual needs in levels from beginner, medium to advanced. The basic content includes: basic steps, posture, coordination, style, body movements, salsa figures and choreographic combinations. Viadanza has belonged to the "Artistic Performing Arts Agency" dossier of Cuban Ministry of Culture since 2010. Its office is located in Bacardi Building at Monserrate Street, Old Havana, and it is open from Monday to Saturday from 9.00 to 17.00.

Best places for dancing Salsa in Havana
To enjoy a dancing night and practice the steps already learned, here is a list of the most recommended nightclubs where you can dance Salsa in Havana.
Salón Rosado de la Tropical: The Salón Rosado de la Tropical became very popular in the 1940s, since it was the favorite place of Cuban musician Arsenio Rodríguez to perform in Havana. Since that date to nowadays it has been one of the most emblematic places for dancing Cuban music in the city. It is located on 41st Avenue in Playa neighborhood. In Salon Rosado de la Tropical you can enjoy with really nice live concerts and great musical events.
Casa de la Música de Galeano: This is a legendary place for dancing in Havana, mostly because of its centric location on the corner of Galiano and Neptuno Streets in Centro Habana. It is a meeting point for locals and tourists who love to dance Cuban music. There are shows and live concerts by the best Cuban salsa orchestras almost every day. In addition, it has a wide space ideal to dance in casino wheels.
Casa de la Música de Miramar, On 35th Avenue in Miramar there is Casa de la Música de Miramar. This is a perfect place to meet and dance with locals in a fun and friendly atmosphere.
Café Cantante Mi Habana: With a wide dance floor and shows until almost dawn, Café Cantante is definitely one of the most popular places to spend a night out in Havana. It is located on Paseo Street, just below the National Theater, in Plaza de la Revolución.
Club Salseando Chévere: For those who are learning to dance Salsa this is probably the best place in Havana. Located on 3th Avenue, between 76 and 80 Streets in Miramar, Salseando Chévere club is directly aimed at Salsa dancers. It has a fun and dynamic atmosphere, with a team of dance instructors at your disposal.
Havana Libre Club Turquino: On the top floor of the Havana Libre hotel, on L Street in Vedado, is Club Turquino. Here you can enjoy a pleasant night having excellent drinks and meals, live concerts of remarkable Cuban musicians and a spectacular view of the city.
Habana Café, Meliá Cohíba: Habana Café is a restaurant, bar and show hall. Its atmosphere reminds the 1950s Havana, with atypical decorations such as a convertible Chevrolet, a Buick from '57, a two-seater YAK-18 and a Harley Davidson motorcycle from '47. In addition, it is settled in a very central location on Paseo Avenue in Vedado.
La Cecilia: La Cecilia is an open-air club located on the corner of 5th Ave and 112 Street in Miramar. Super popular among locals, especially young people, because of its attractive musical offer and its nice price. Thus, La Cecilia is recommended for dancing salsa with locals and enjoy of casino wheels.

Dancing salsa in Cuba is an excellent motivation for a couple trip, honeymoon or any kind of trips. Now you know the right places, don't think it twice, go ahead and enjoy the Cuban Salsa in Havana.