If you are eager to live unforgettable emotions, forget about all classic tours. Instead, dare yourself to live this Havana vintage tour. Definitely, you will fly away from your routine and travel in time.
Truth be told, Havana is the Capital city of our country, and it is a really crowded place. Yet, it has nothing to do with a cosmopolitan, flashy metropolis. Actually, my quest is mainly about discovering history and reality by yourself.
Truly, I will give you the tools to be its own judge.
Where to start our journey?
El Cristo de La Habana
Do you think the adventure starts once you cross the Bay? No way!
Unquestionably, the warmest welcome to Havana will be to enjoy its views before crossing the underwater tunnel.
Hence, my proposal is to stop by at El Cristo de La Habana and its whereabouts.
Mostly, the statue has a great history itself but you will only need a minute of solitude and meditation. In fact, you will fall in love with the city's panoramic view.
Furthermore, the Christ statue was built in 1958 to look after the city. Additionally, it is located 51 meters above sea level, and the building process took over 600 tons of Carrara marble.
Undeniably, the best spot to start our journey.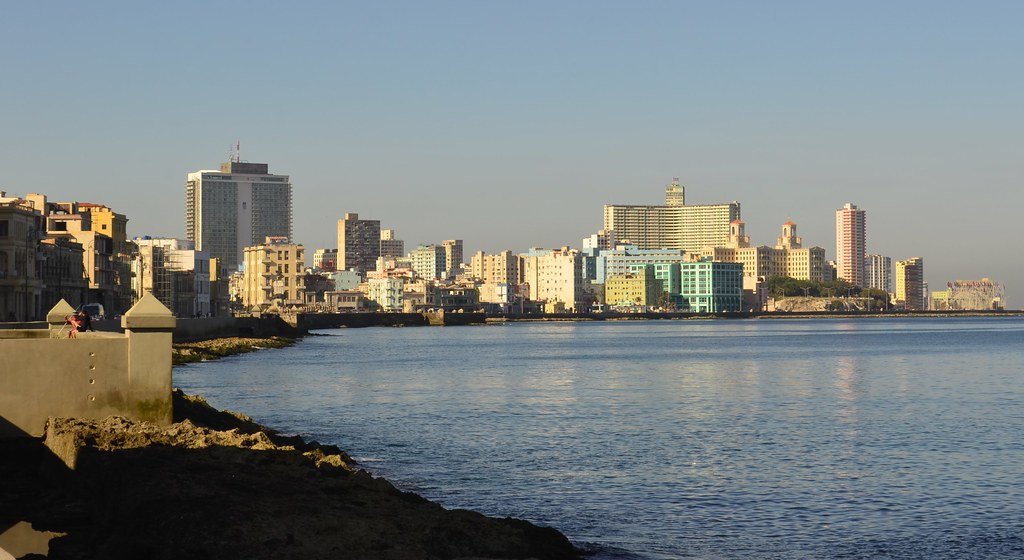 El Malecón de La Habana
There is no other choice than to love the 8 kilometers of magnificent views in el Malecón de La Habana, the place where you will always go back over and over.
No doubt, Havana takes advantage of its north coast position to show in advance all the faces of its reality. Certainly, it is the most famous avenue in the whole country. Contrary to your possible belief, "el Malecón" is not just a street, it represents every symbol of the Cuban culture. For this reason, quite a few people gather around every day, either to swim, to talk, to fish or just to walk by.
Additionally, an American classic car ride will set the perfect mood to live the full experience. Particularly, you will appreciate the skyline of both a glamorous and decaying Havana. For example, the avenue exhibits important buildings, fortresses, and monuments among them the former US Embassy.
Paseo del Prado
Hop off your classic car at this point, for the boulevard deserves a walk through.
Absolutely, this is one of the most notorious boulevards in Havana. First of all, the place has been part of the Cuban history since the 18th century. Obviously, it has seen lots of changes and today, it is surrounded by trees, benches, and guarded by two lion sculptures (los Leones del Prado).
Initially the walk starts at "el Malecón" and takes over the 2 kilometers surrounded by wonderful and varied architecture styles. For example, we see how the ancient European style conveys with the modernity of luxurious Hotels.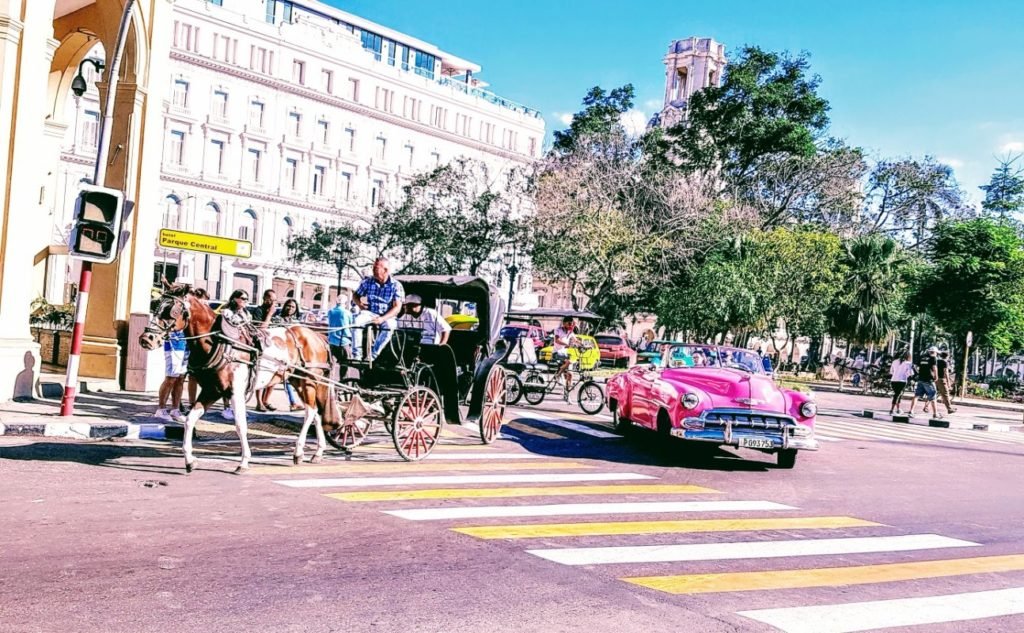 Parque Central
For sure, "el Parque Central" (central park) is a welcoming meeting point in Havana. Why? In first place, the park shows truly notorious venues. Some of them are:
Gran Teatro de La Habana (Havana's Grand Theater) a majestic building, with different architecture styles and home of the Cuban National Ballet.
Hotel Telégrafo, Hotel Inglaterra, Hotel Parque Central, Gran Hotel Manzana Kempinski, and Hotel Plaza. These are some city hotels that will allow you to enjoy different styles and live the Cuban experience in a very distinctive way.
The National Museum of Fine Arts in Havana. When visiting the museum, you will be delighted with national and international works of art.
At last, but not least by the southern area of the park you will find all sorts of American vintage cars waiting for clients.
El Capitolio
Indeed, the National Capitol Building is located at the exact center of Havana. Moreover, in our tour we can visit the National Capitol at a stop by Paseo del Prado at Parque Central. Its design and name are similar to the American Capitol in Washington, and was the home of the Cuban Government right until the arise of the Cuban Revolution.
The building was built in 1929 during the Capitalist regime in Cuba, and today it is one the most visited places in Havana. At the entrance of the place you will be welcomed by a wide granite staircase of 56 steps, the place is by itself a great work of art. For example, inside the building there is a richly decorated apse with the world's biggest indoor statue: The Statue of the Republic.
Briefly, Havana is ready to offer a wide variety of interesting and vintage places. Curiously, it is a warm and quaint city that will welcome you full of charms. Surely, you will be back over and over.