Hello to all our readers, in this post I will share with you the most fun, interesting and unforgettable things to do in Varadero in 2020, since it is one of the most popular and busiest places Cuba.
Varadero is a mandatory place to visit if you come to Cuba. It is only 130 kilometers east of Havana and it is of the 30 kilometers that this city has, 22 kilometers are from the beach. The beaches of Varadero are paradisaical, of crystalline waters with fine white sand and iconic coconut trees that turn these beaches into tropical paradises.
However, Varadero not only offers paradisaical beaches for those who love lying in the sun and tanning for hours, as its tourist and recreational activities are varied for all tastes.
8 Unforgettable Things to do in Varadero in 2020
1. Varahicacos Ecological Reserve
In this reserve, there is abundant flora and fauna of the place where there are plants such as the Hicaco to which the peninsula owes its name and its white fruit is delicious, in the fauna, there are iguanas, multi-colored fish, sharks, turtles, and various marine animals what makes this reserve something worth photographing. In it, you can perform activities such as diving, snorkeling, climbing and hiking enjoying its admirable landscapes and direct contact with nature, in addition to contemplating archaeological remains of incalculable historical value.
Location: Varahicacos Reserve, Hicacos Peninsula, Varadero, Cuba.
Entrance Fee: 3 CUC per person.
Hours: Monday to Friday, 9:00 am to 4:30 pm
2. Craft Fair Los Caneyes
Undoubtedly a place that is very worth visiting to go is the craft fair of Los Caneyes, focused on the traditional crafts of Varadero, here you can find souvenirs for all tastes and for all budgets. Anything you look for here you can find cheaper, because here the bargaining is typical, although if you are looking to help the local economy with your visit accepts the price.
It is a very popular fair among all tourists and you can find items and souvenirs such as wooden structures, ceramics, hand-painted paintings, necklaces, maracas, hats, typical handicrafts from the region and endless curiosities. As you can imagine it is a place full of colors, traditions, and culture. Do not miss it!
Location: 1st Avenue between 17 and 16, Varadero, Cuba.
Entrance Fee: Free.
Hours: Monday to Friday, 9:00 am to 7:30 pm / Saturdays and Sundays from 9:00 am to 4:30 pm
The Ambrosio cave is 200 years old and was inhabited at different stages by pirates, Indians, and slaves, it has five galleries and one of the most representative rooms is the skylight room where you can admire some of the 47 paintings or pictographs. These pictographs present daily activities such as hunting and fishing, they are also said to talk about the era of slavery on the island and its rituals.
As if that were not enough, Ambrosio Cave has another attraction for animal lovers as inside it lives a community of bats that eat fruit and use to surprise all visitors.
Location: Autopista Sur, Varadero, Cuba.
Entrance Fee: 3 CUC per person.
Hours: Monday to Friday, 10:00 am to 5:00 pm
Enjoy an exquisite moment at Josone Park, the park is an old mansion that was built in 1942, its owners were a couple named José and Onelia, the mansion passed to the government after the revolution and is now an open space to the public. In it you will find diverse vegetation, as well as animals, geese ostriches among others.
In addition to being able to take a boat ride on the water, it also has a mini-train, pool, and restaurants, it is a very wide place where you can spend many hours enjoying, learning and observing the beautiful vegetation of the place.
Location: 4th Avenue between 58th and 59th Street, Varadero, Cuba.
Entrance Fee: Free.
Boat Trip: $ 0.5 CUC per person per hour
Hours: Monday to Sunday, 8:00 am to 12:00 am
If you are traveling with your family this is an excellent opportunity to spend a pleasant time just because this place is designed for the enjoyment of the little and adults, in it, you can swim with dolphins, observe the amazing shows, as well as take pictures of the place too. It has a children's play area, souvenir shop and traditional crafts of Varadero.
It is an incredible experience to see and learn about these animal specimens that are so intelligent and full of life.
Location: Varadero Dolphinarium, South Highway, Varadero, Matanzas, Cuba
Prices:
Show: 15 CUC
Photo with dolphins: 5 CUC
Swim with dolphins: Adults: 75 CUC / Children: 65 CUC
Photo camera input: 5 CUC / with video camera: 10 CUC
Hours: Monday to Sunday, 9:00 am to 5:00 pm
6. Xanadú Mansion (Dupont House)
The Xanadú Mansion is a wonderful building which was built in the 20s by a millionaire named Dupón. The mansion is built mostly elegant and fine finishes of precious woods, it was completed in 1930 and was built with the exorbitant budget of 700 thousand dollars. Currently is a luxury hotel that has in various places to look, like its terraces, balconies a pier and the El Mirador bar that is at the top and where you can make a stop and enjoy the excellent selection of drinks, as well as a beautiful view over the Atlantic Ocean.
An excellent recommendation is to try the exquisite lemonades and Mojitos that are served in this bar while you relax watching the beautiful view.
Location: Autopista Sur, Km 8½ Varadero, Matanzas, Cuba
Telephone: +53 45 668482
Entrance Prices: Free
Hours: Restaurant: 12:00 pm to 10:30 pm / Bar: 10:00 am to 10:45 pm
These caves are famous because they served as a refuge in the 19th century for Cuban smugglers who called themselves The Muslims, it served as a refuge since because of their branches and being high it became a perfect hiding place and from above they could see if there was some enemy on the prowl. In its fauna, there are different families of reptiles that live in the cave lake, water snakes as well as singular cutting ants, which descend from the surface roots and descend to the deepest part of the cave.
Like the Ambrosio Cave, it is formed by 5 rooms where 72 cave drawings have been drawn that, when sunlight enters, generates a true spectacle that caresses the view, but without a doubt, the greatest attraction of this cave are the human remains dating back more than 2000 years.
Location: Autopista Sur, Varadero, Matanzas, Cuba
Entrance Fee: 5 CUC
Hours: Monday to Friday, 9:00 am to 4:30 pm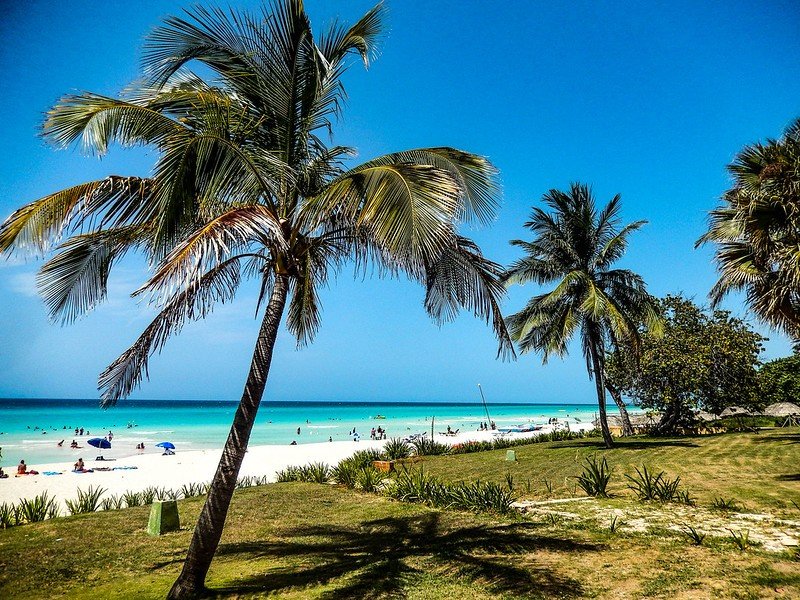 Varadero beach is approximately 20 kilometers long and many call it a blue beach because of its turquoise-blue waters on this beach you can organize all water sports, such as diving, snorkeling, skydiving, sun, water skiing, and sailing, and you can also enjoy doing things like riding a bike or horse-back riding on the beach.
The beaches of Varadero are considered the best and most beautiful beaches in the world, it has that shine and that unique touch so glamorous that they invite you to never leave them, as a curious fact, the famous gangster Al Capone frequented the hotels of the coast because it was an elegant and fantastic destination, perfect for rest and relaxation.
Location: Varadero, Matanzas, Cuba
Entrance Fee: Free
Hours: 24/7
List of the 8 Unforgettable Things to do in Varadero:
Varahicacos Ecological Reserve
Craft Fair Los Caneyes
Ambrosio Cave
Josone Park
Varadero Dolphinarium
Xanadú Mansion (Dupont House)
Los Musulmanes Cave
Vardero Beach
Thank you very much for reading this post, if you liked it, do not hesitate to share it with someone you know, if you have any questions or suggestions, just leave us a comment below, we will respond right away.