If you are coming to Cuba, one of the things you shouldn't' miss is visiting Havana, that is why I bring to you this article with everything you need to know about a Varadero to Havana Private Tour.
I often meet many people who classify Cuba as a "sui géneris" place, because in our beautiful island we can find dissimilar attractions, so when we travel a few kilometers we can make several types of tourism.
Although the beach resort of Varadero, as a tourist pole, has all the characteristics of a sun and beach destination, it is also true that to be able to say that you were in Cuba you must visit Havana. My proposal for today is precisely that: how to do a Varadero to Havana Tour?
OUR MOST POPULAR VARADERO TO HAVANA PRIVATE TOURS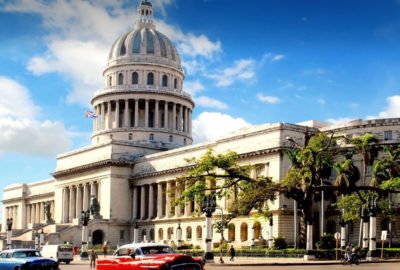 Come with Havana Vintage Car Tours and taste Havana´s historical flavor vitalized by some entertainment & rhythm at night.
Unique way to discover Havana following the footsteps of a great legend of literature. This Novel Prize winner fell in love with Cuba...
Exclusively perform a tour of Old Havana and Modern Havana with its history, enjoying the wonderful architecture of its streets and...
Although both destinations are separated by 130km, they are easy to travel. Well, having said that and in order to do this Tour private and by your own, I will present to you several options, from which you can choose the one that fits you better, whether you're traveling on a budget or with luxurious taste.
The tour to Havana from Varadero usually last around 2 and a half hours, of course the duration depends on the option you choose and the stops you make. I warn you, the landscape is beautiful, as on the most of the trip you will have on one side the Atlantic Ocean and on the other the typical elevations of the Yumuri Valley.
In this type of publications I always go directly to the grain: how much does it cost? But I want us to stop, because often the price not only makes it vary the amount of money in your pocket, but also the time that we have to make the trip.
What to bring to Cuba
If your time on the island allows you, you can make a more complete visit to the Cuban Capital if you sleep one night in Havana, although it is not impossible to make the tour and return on the same day. Anyway, I will recommend that you bring several things you might need if you are thinking on doing a Varadero to Havana Private Tour: water (in Cuba is very important to be hydrated), +50 sun-blocker, insect repellent, sanitizer gel, napkins, your documents, your medications (if you have any condition) a dictionary (although in Cuba many people dominate English, it is always useful) and money in both currencies (CUC and CUP).
What to wear on a Tour to Havana?
What to wear during Varadero to Havana Private Tour? About the clothes, I would recommend that you always dress comfortable and fresh. The shoes should be low and allows perspiration and do not forget complementing your outfit with sunglasses and a hat that prevents the sun from striking directly on your face, we want you to return from the holidays with a nice tan, but the sun of Cuba is very strong, even on winter.
What are the options to go on a Tour to Havana from Varadero?
The first option is the buses of the Vía Azul chain, which are very cheap (10 cuc per person) and have several frequencies during the day. The disadvantage of this option is that you must book more than a week in advance (online) or try your luck at the offices (located at the Bus Terminal on Calle 36, Varadero). In addition, you have to make a confirmation of the ticket one day before traveling, and half an hour before leaving you must check in.
This is a very popular offer, as more and more people visit Cuba and want to lower costs, although it is not the most comfortable option, the most personalized, nor the one that will allow you to admire the beautiful landscape that separates these two cities, because it only makes two stops, in the 3 hours that the trip lasts, so we can't consider it as a properly Varadero to Havana Private Tour, but it may be interesting.
Another option is to rent a car, on the island we have several car rental agencies for tourists such as Rex and Rentacar. This way you will not depend on anyone other than yourself and you can optimize the time, yes, renting cars in Cuba is not cheap (a Skoda Fabia Hatchback 1.4, for example costs 90 euros, without counting insurance and gasoline); You will have to do it a lot of time in advance to opt for the best options; If you drive you will not be able to fully enjoy our famous shaker tradition and you will not have the tips of a guide who will tell you in detail about the traditions and the best places to live the experience of visiting Cuba to the fullest.
The third way is more adventurous, definitely using the various types of public transport that we have in Cuba will be an unforgettable experience, here we call it "go down the street".
It is important to know that these vehicles are a bit rustic and that neither of these two possibilities is designed for the transportation of tourists, but you can always talk to the driver and reach an agreement with him. In this option the luck factor is essential because you depend on the weather and what you find that day on the road, here we have two types of public transport, to be able to choose either of the two you need to get to the city of Matanzas first, What you can do by taxi (private or taxi):
The cheapest way for a Varadero to Havana Private Tour is to take  a passenger truck; these are trucks that have been put seats so they can transport people. You can approach them on the Viaduct, where you must wait for one to arrive and try to mount. I would like to clarify that these vehicles do not have air conditioning, or reclining seats, the approach to them is a little disorganized because the pickup is on the street, not in the terminal, and that, although it stops many times, none of the stops is for that you make photos or admire the landscape. In these cases the prices are difficult to say, but they range between 1 and 3 cuc, it will always depend on what you manage to negotiate with the driver.
In addition this, these trucks there are cars whose owners are dedicated to the transportation of people between the two provinces, they have a capacity of up to 10 passengers (depending on the model) and although you may come across one in the Viaduct, they are easier to find in the Bus Terminal of the City of Matanzas. These taxis do not make as many stops as trucks, so they tend to be faster, although they do not give you the opportunity to take pictures of the landscape, make tourist stops or receive information about the town. The prices can vary according to the driver, the date and time of day (if they are holidays or is at night) and what you manage to negotiate with him, getting to Havana in these cars can cost between 5 and 15 cuc.
Now, if your budget is not so limited and you want to do a more comfortable Varadero to Havana Tour you can also rent a taxi: near the lobby of the hotels, or circulating through the streets of Varadero you can find the taxis of the Cubataxi, the official taxi agency in Cuba, to the agency belong classic and modern cars and the prices range from 90 and 120 cuc. The trip should last almost two hours and, although this varies depending on the character of the driver, does not include stops for photos or drinks in the establishments that are on the edge of the road.
Anyway, I recommend that once you get to Cuba you will be informed by the hotel staff or the house where you are renting, and that you always try to negotiate with the driver so that you get the best possible price.
Where to Stay in Havana
Havana is a beautiful city during the day, but it is even more during the night, which is why you may be considering spending one or several nights here in order to enjoy the neoclassical stage of lights offered by both the Capitol and the Alicia Alonso Theater, or maybe just take a walk along "El Malecon", where young people come to fall in love or just to "descargar."
In any case, the options for lodgings in Havana are only two, on the one hand, you can choose one of the hotels in the capital, and on the other, you can stay in a B&B (Casa Particulars). The question is: Which one to choose? Well, the answer is quite simple if what you are looking for is to get closer to Cuban Traditions, to feel like a local for one night then our suggestion is that of a "Casa Partiucular", otherwise opt for a hotel.
In addition, it should be noted that there are several "Casas Particulares" in Havana whose standards of comfort, quality and services are at par or even higher than that of hotels, such is the case at Madero B&B, a place of lodging that is located in the prestigious # 17 among the over 1300 lodgings that exist in all Cuban capital.
Havana Tour from Varadero with us
You can share this experience traveling with us. We can arrange a Varadero to Havana Private Tour and besides we are classified as the number one option by Tripadvisor in transportation in Varadero, all our cars belong to Cubataxi, you can choose if you want to travel in one of our classic cars or in a more modern, always with air conditioning and at your disposal. We have all the time in the world to turn your trip into a pleasant experience, we will make all the stops you need to take pictures of the landscape and enjoy the Cuban cocktails. Our price for this trip is 75 CUC per person for a group of 2 or 3 people and $45 CUC per person for a group of 4, and you only pay when you get back to your accommodation. You can book now, it's free!