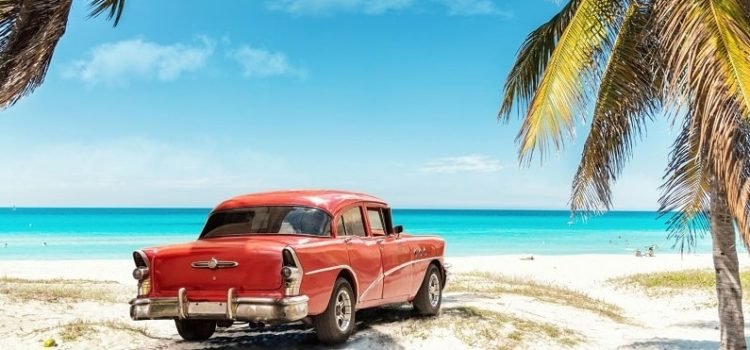 In this full guide we will talk about the different ways to go from Havana to Varadero, the cheaper and luxus way, as well as many tips about where to stop during the way and the best places to stay in Varadero.
So, you are considering to go from Havana to Varadero, and it perfectly makes sense as Varadero is one of the most beautiful places in all the island, actually, Varadero is the main tourist pole of Sun and Beach in all Cuba, it has more than 20km of the beach where the sand is white like flour and the waters are light blue and crystalline, it is not surprising that it has been recommended in 2019 as the second-best Beach in all over the World by TripAdvisor.
In this complete guide we will show you all the options that exist about how to book a taxi from havana to Varadero, how much does it cost, as well as how to book a Bus, the price of the Bus, how far is Varadero from Havana, where to stop on the way, and much more 🙂
Distance from Havana to Varadero
Varadero is 145km east of the Cuban capital, getting there is relatively easy since the road that separates both locations, the "Vía Blanca" is one of the best in the entire country.
The trip lasts approximately 2 hours if you travel in a taxi and the landscape is pleasant to look at as you will travel along part of the north coast of the country with beautiful views over the ocean, the Yumurí Valley and the Matanzas Bay.
Does it worth it to visit Varadero?
Of course! In addition to the beautiful beaches, Varadero hosts a wide variety of local and international food restaurants, a flea market with countless souvenirs, paintings, and handicrafts, as well as a very active nightlife, from such romantic and quiet places to dine as restaurants in the Park Josone to more active and moved places like Calle 62 or The Beatles Bar at 1st Avenue and 61st Street
The average maximum temperature is 30 degrees and average humidity of 88%, UV can be harmful even if you are in the shade, we recommend using 60 FPS sunscreen at all times.
How to go from Havana to Varadero?
When we think about the different ways in which we could travel from Havana to Varadero we could probably think that there are several bus stations in Havana, and yes, this is true, but only one is designated for tourists: Viazul.
To take the bus from Havana to Varadero is the cheapest way to get there, although it is not the fastest nor the most comfortable and it is worth mentioning that it has a "hidden price".
Although the bus ticket costs only $ 10 USD per person, the truth is that we always forget that we should take a taxi from our starting point to the Bus Station in Havana and another from the Bus Station in Varadero to our final destination.
And you may wonder, is it not possible to go by public transport to and from the bus station? And the truth is that it is not! In Cuba, public transport is very poor and inefficient, and it is not designed for tourists.
The subway does not exist and the local buses pass in long periods of time and surely you will not want to ride them.
In addition, route planning is not on the Internet so it is almost impossible to know where a local bus is going before getting into it. So keep this in mind before booking seats on a bus to go from Havana to Varadero.
You will pay at least $20 CUC – $45 CUC taxi to get to the Havana bus station and the same to go from the Varadero Bus Station to your final destination.
Booking a bus from Havana to Varadero

If you want to book bus tickets online, I suggest you do it through the Official Website of Vizaul, it is the only Cuban Bus Agency that has an Online Reservation System. You just need to complete the reservation form and give your credit card information.
Departure Schedule of buses from Havana to Varadero
| | | |
| --- | --- | --- |
| Departure Time from Havana | Arrival Time to Varadero | Price |
| 08:00am | 11:05am | 10 USD |
| 10:00am | 01:15pm | 10 USD |
| 12:00pm | 03:05pm | 10 USD |
| 05:00pm | 07:45pm | 10 USD |
Where is the Bus Station in Havana?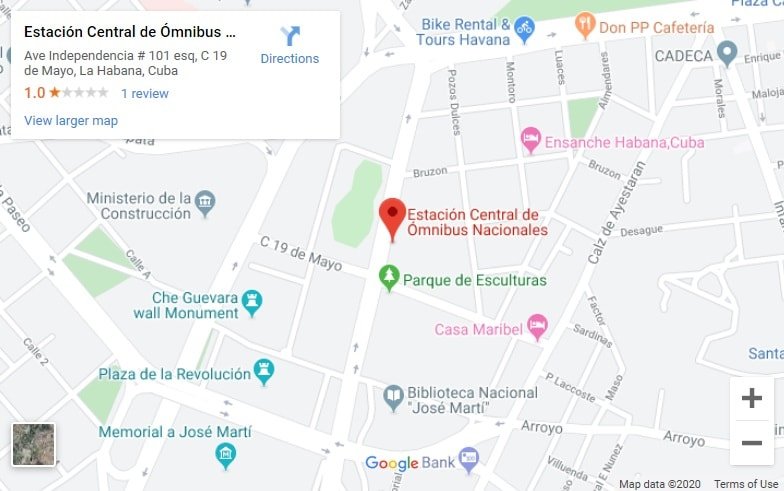 Havana's bus station use to be on the avenue. 26 and Zoo in Nuevo Vedado, but now it has been relocated and you can find it at Estación Central de Omnibus Nacionales, Ave Independencia #101, esq. 19 de Mayo. The station is open 24 hours a day, but buses leave for Varadero only from time to time.
Taxi from Havana to Varadero
Taking a taxi from Havana to Varadero is pretty simple because the capital of Cuba is full of them. There are just taxis everywhere, from the airport to the most inhospitable corners of Havana 😉
There is no mobile application that allows you to request a taxi through the internet or a website with immediate response, you can request a taxi depending on where you are:
Booking a Taxi from Havana to Varadero Online
Finding a provider for this type of service is relatively easy, as  you can find many of them on the internet! In Havana 60 Classic Cars Tours we offer the possibility to our clients to make this reservation for Free.
You only pay directly to our driver on the day of the transfer once you have arrived at your destination, we also have a fixed price for the Havana to Varadero Transfer of $120 CUC if the pickup location is in the city or $130 CUC if the pickup location is at the Airport.
We are proud to have won the Tripadvisor Certificate of Excellence in 2 consecutive years (2018 and 2019) and we are also in the ranking of # 1 Transportation Service in Varadero since 2017.
In order to book a transfer with us from Havana to Vardero you just have to send us the request with information about the pickup location and time of collection, number of people and date for which you want to book the Transfer, our Bookings Coordinator will respond as soon as possible, if you find out that "just a Transfer" is not enough, you might consider a private day trip from Havana to Vardero in some of our beautiful Classic Cars with driver and tour guide service for just an additional fee of $30 CUC.
Request a Taxi in a hotel from Havana to Varadero
Here you have basically 2 options, the first one is to ask a hotel staff to request a taxi in the hotel lobby or by personally going to the lobby and negotiating the price directly with the taxi drivers.
The average price for a transfer from Havana to Varadero is $ 120 CUC, of course this varies slightly depending on the type of car, how many people you are and the time of collection.
Ask for a taxi to Varadero from a Hostel
If you are staying in a hostel then you will surely have no problem finding a taxi to Varadero easily, since the owners of the Hostels always have a "friend" that can take you for the same price as a regular taxi, the advantage here is that you will not have to do the arrangements by your own.
How to get a Taxi to Varadero from the Middle of Nowhere in Havana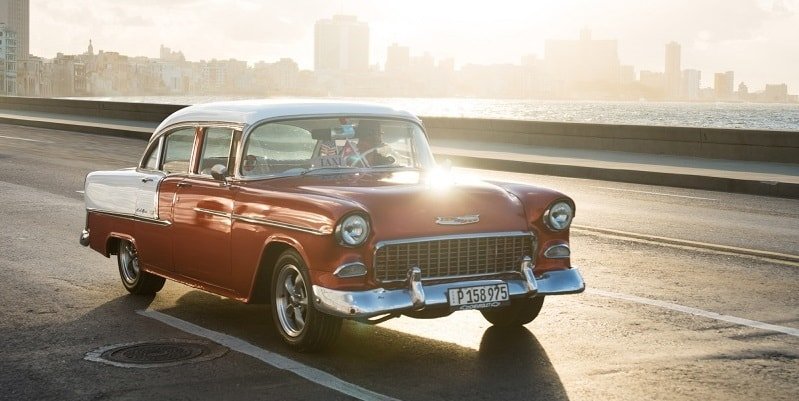 The truth is that this situation is very unlikely since booking a taxi from Havana to Varadero is not something that is planned in an instant.
But assuming that is the case, the only options would be either to call directly the number of the Cuba Taxi Agency (+53 855 5555) or search online for a site that has an instant contact system such as a chat.
In the case of our website, you can verify that the chat bubble is active in the lower right corner, we are usually available to chat every day from Monday to Saturday from 8:00 am to 10:00 pm (GMT +1).
Havana to Varadero Day Trip
If you prefer to stay most of your stay in Havana but also do not want to miss the beautiful beach of Varadero, which was chosen in 2019 as the second-best Beach in the World according to Tripadvisor, then a day trip would be the solution.
Taking a day trip to Varadero from Havana costs only a little more than the Transfer, and you will surely wonder why? Well! Very simple! The car that takes you on a Transfer, surely is from Havana, and after leaving you at your final destination in Varadero, it must return to Havana, this is why taking the day trip is just 20% -25% more expensive than the transfer.
The advantages here are that you will not only have the opportunity to bathe in this beautiful beach, but you will take a tour of the entire north coast of the country, you will visit the city of Matanzas and usually, the day trips to Varadero include a visit to the Saturn Caves.
If you are interested in a Day Trip from Havana in some of our cars to Varadero I recommend that you take a look at our Varadero Tour from Havana or maybe you could be also interested in our Matanzas Tour from Havana
Flights from Havana to Varadero
After having done an exhaustive investigation of the entire network, we have reached the conclusion that there are no direct flights from Havana to Varadero, and it is not surprising since the two cities are just 145km away, which It can be covered perfectly by taxi or a bus.
However, there are flights from Havana to Varadero, it is only that the flights costs around $500 USD per person and lasts more than 5 hours with 1, 2 or even up to 3 stops, which is totally ineffective. Among the main sites that offer this service are: FlightNetwork, JetCost, and TripAdvisor.
Travel by Train from Havana to Varadero
The Hershey Train is the only one of its kind that covers the Havana-Matanzas route, it takes about 4 hours to cover a distance of 92km, it is slow, uncomfortable, loud and unpredictable.
But ironically all this makes it a very particular attraction, since if you are an adventure lover, this, without a doubt, will be one that you will remember a lifetime 🙂 IndiaJo has written a fabulous article where she narrates her experience taking the train of Hershey in Cuba.
The price of the train from Casablanca Station to Matanzas Station costs about $3 CUC per person before you will have to take a ferry ($1 CUC per person) to get to Casablanca in Havana and after arriving in Matanzas you must take a taxi to Varadero, which can cost up to $35 CUC, but you can always negotiate, as I said before, use the magic words 😉
Where to Stop on the Way from Havana to Varadero?
There are several places of interest where you can stop along the way to take a 15min break, among them, the most popular without a doubt are:
Bacunayagua Bridge: Stopping at the viewpoint of the highest bridge in all of Cuba is probably the best option to take a 15-minute break, from here you can enjoy a beautiful view especially of the "Yumurí" Valley and have the opportunity to taste a of the best "Pina Coladas" in the world 🙂
El Peñon del Fraile: Although this place lacks a beautiful view, it is no less true that the atmosphere is very pleasant, since being close to the north coast, you feel a cool breeze that gives pleasure to enjoy. In addition, there is almost always a musical group playing traditional Cuban music in the area.
Las Palmeras: Hidden between mountains is this small bar, nothing special, there is no live music or beautiful views over the valley, but if you are a coffee lover, then if I recommend stopping here, this place boasts the best espresso coffees in the whole area.
Things to do in Varadero Cuba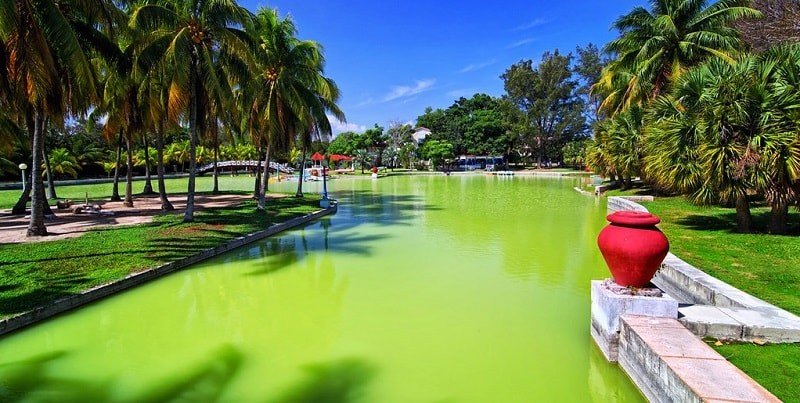 There is a wide variety of things that can be done in or from Varadero, of course, it is impossible to see everything or visit everything in just a day or a week, just to mention a few and the most important ones I leave a list below:
The Beatles Bar
Calle 62
Cueva Ambrosio
Cactus Patriarca
Convertible Car City Tour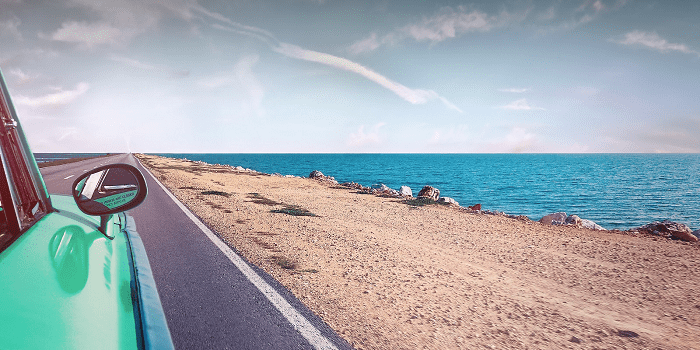 If you are looking for information about a Taxi from Havana Airport to Varadero, you are probably not very happy with your trip to Cuba, since you think you have started with the left foot. Many things that don't fit right here. First, your flight arrives at the Havana Airport and the place where you are staying is in Varadero, which is 150km away…
INTRODUCTION
If you are looking for information about a Taxi from Havana Airport to Varadero, you are probably not very happy with your trip to Cuba, since you think you have started with the left foot. Many things that don't fit right here. First, your flight arrives at the Havana Airport and the place where you are staying is in Varadero, which is 150km away, and the worst thing is that in Varadero there is an International Airport also but surely your Travel Agency does not operate with any airline that flies to Juan G. Gómez (Varadero Airport) directly. The second is that you probably want to return to Havana to spend some days in the capital, so you will have to pay for another Taxi from Varadero to Havana, but wait! Do not despair !!! The good news is that you are going to visit one of the most emblematic capitals of the world as well as one of the most beautiful beaches and in this article, we will give you a wide range of options so that you can get the most out of everything. So we are going to divide this article into several sections to make it easier for each of the readers to find their specific case.
BOOK A TAXI FROM HAVANA AIRPORT TO VARADERO

If you only want to book a Taxi from Havana Airport to Varadero, there are basically two options. You can book online or you can take a taxi directly once you have arrived at the Havana airport.
Booking Online
Booking online a taxi from Havana to Varadero with us is very simple, you just have to indicate the information of your flight and the place where you want us to leave you in Varadero, our travel coordinator would contact you to confirm the cab. The price of a taxi from Havana Airport to Varadero is $130 CUC for a total of 3 passengers, you will not have to pay absolutely anything to make the reservation, it is free! The payment will be made the same day of the service once you have reached your destination.
Taking a Taxi directly at the Airport
If Online booking is not your style, then there are some tips that I would like to give you in case you plan to take a taxi directly at Havana Airport. The first thing is that only a few taxis in Cuba have a taxi-meter, and those who have it, have it "broken" That is why it is advisable to adjust the price with the taxi driver before getting into the taxi, since once at the destination the taxi driver can claim any price for the service. Usually, when you take a taxi from Havana Airport to Varadero the price ranges are between $150 CUC – $170 CUC, never agree to pay more than that. Do not appear to be desperate when talking to the taxi driver, whatever the price they propose, always request a discount, and finally… use the magic words! If their price offer doesn't convince you, just tell them: "Well, I'm going to talk to another taxi driver" that always works!
I WANT TO RESERVE A TAXI BUT I AM ALSO INTERESTED TO KNOW A LITTLE VARADERO
For this particular case, you can send a request directly to the agency with which you have booked your taxi from Havana to Varadero. In our company: Havana 60 Classic Cars Tours, we do not charge any additional charges to show the city of Varadero to our clients, it is as simple as driving on the main street of Varadero instead of on the highway. Many drivers drive on the highway in order to reach their destination faster, but we have a commitment to our customers and it is to achieve their total satisfaction.
I WANT TO BOOK A TAXI AND GET THE MOST OUT OF THE TRIP
Here I would recommend doing the Varadero Tour from Havana instead of just a Transfer. This option is viable if your flight arrives before noon, as it gives time to know several places of interest such as Coral Beach, Saturn Cave and Josone Park, as well as spend some time to bathe in the beautiful beaches of Varadero, which was chosen in 2019 as the second-best beach in the world according to TripAdvisor. And this is where the true recommendation of this section comes from, and in this beach area where you will bathe, it is where the sand is finest and the most crystalline water, in fact, the best area of Varadero beach is located from the 10th street to the Sol Palmeras hotel, and the irony is that from Sol Palmeras onwards you will find most of the hotels, so, even if you do not take this offer but decide to take a tour to the center of Varadero from your hotel, do not miss the opportunity and bring a swimsuit. Your may also want to read this great article about a Varadero to Havana Private Tour, where we cover everything in details.
I WANT TO BOOK A TAXI AND THEN ANOTHER FROM VARADERO TO HAVANA AIRPORT
Here are two possible options, the first is that you just want to return to the Havana Airport and you are not interested at all visiting Havana (which is very unlikely) or maybe, yes, you are interested in Havana, but your flight leaves early from the Airport and you have no room for anything else, and the other case is that your flight leaves in the afternoon and here we can take advantage out of the Transfer.
My flight leaves early
In case your flight leaves early and you have already booked another transfer with us, we invite you to book a new transfer from Varadero to Havana and you will have a 10% discount for reseating two services of the same category.
My flight leaves late
In case your flight leaves late and you have to do the "Check-In" at the airport after 4:00 pm, then our suggestion would be to book a Tour to Havana instead of a Transfer. Yes, I know that at this point you have many questions like. How much more for a tour? And what do we do with the luggage? And after the Tour, would you leave us at the Havana Airport? Now I'll explain everything with a case study. Suppose you are a group of 2 adults and 1 child, and you also bring two large and two small suitcases, you are staying in Varadero and have to do the "Check-In" at the Havana Airport at 5:00 pm, but the "Check-Out " in the hotel is at 12:00 pm !!, it doesn't matter! You will lose only 4 hours without been at the beach but you will spend a full day touring in Havana! Instead of booking a Transfer for $ 130 CUC, we would suggest a Tour-Transfer for $ 160 CUC. Yes! that is correct! Only for $ 30 CUC more, we will send you a Classic car, with driver and guide, which will pick you up at 8:00 am in the lobby of your hotel, they will be with you all day touring the most beautiful places in Havana and at 4:30 pm they will leave you at the Jose Marti Airport. Your luggage will travel with you all the time in the trunk of the car.
I WANT TO BOOK A TAXI AND THEN ANOTHER FROM VARADERO TO HAVANA TO SPEND SOME DAYS IN HAVANA
Unlike the previous case, in this case, you do not need to lose 4 hours of beach the day of your Check-out at the Varadero hotel, although it is worth considering since if you do decide to leave at 8:00 am to do a Transfer-Tour to Havana, would have advanced many of the places you want to know in the Cuban capital since all our tours are personalized to what our clients want to do, you can simply choose which places to visit. Our guide and driver would leave you at your accommodation along with your luggage at 4:00 pm. If you plan to stay in Havana for more than 2 days, you may want to keep an eye on our post of a day trip from Havana to Vinales.